Welcome to Century Dodge Chrysler Jeep Ram - located in the heart of Wentzville, Missouri.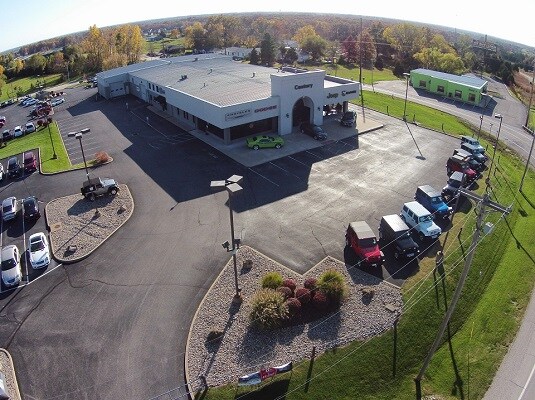 Century's Story

You could say the story of Century is one of classic American entrepreneurship and perseverance. What began as a small dealership founded by a family with a big dream has since evolved - into one of the premier Dodge, Chrysler, Jeep, and Ram dealers in the St. Louis metropolitan area. Through it all, we've maintained a simple, time-honored philosophy: treat our customers the way we want to be treated.
Our family founded Century in 1989. We leased a location inside a rundown 1940s strip mall in Wentzville, Missouri, and converted an old furniture store into a small car dealership. Through offering our customers superior services and knowledge of the Chrysler product line, word about us began to spread. Our reputation within the community began to grow. It wasn't long at all before we outgrew our location.
Later that year, we selected a new location near the intersection of Highway 40/61 and I-70. We immediately began construction on a brand-new, state-of-the-art facility that would allow us to offer our ever-growing customer base the best sales and service experience in the area. Our humble dealership began to grow.
In 1997, we had the privilege of adding Jeep to our product line. This made us the first Jeep dealer in Wentzville, and allowed us to become the first dealer west of the St. Louis area to offer Dodge, Chrysler, and Jeep under one roof.
Our customers were ecstatic. In the years to come, we continued to expand our company. Sales ranked in the top 10% of all Chrysler dealers nationally, but we didn't stop there.
In 2005, we began expanding and renovating our entire facility from the ground up. We doubled the size of our available new and pre-owned inventory. After nearly 3 years of construction, we finally took the wraps off our brand-new facility in 2008.
Despite our success and continued growth, troubled times would soon be upon us. In 2009, Chrysler filed for bankruptcy. In doing so, many of their franchise agreements with dealers all over the country were terminated. Ours was one of them. In June of 2009, we were forced to close our doors.
We strongly disagreed with Chrysler's decision. After all, we were a growing, profitable dealership that had just invested in a brand-new facility in the Wentzville community. We provided our customers with a dealership experience that they couldn't get anywhere west of St. Louis. We decided to fight back.
We joined with other dealers across the country that had also been wrongly terminated by Chrysler. We fought Chrysler's decision in the courtroom and in the hallways of Congress. Finally, after 2 years of persistence and refusing to take no for an answer, we prevailed!
On March 1, 2011, we re-opened our doors to the public. We also came up with a new company motto:Â We Believe!
Much has changed about our dealership since our days in the old furniture store, but some things remain the same. We're still committed to being a family-owned business that's part of the community we service. Most of all, we're committed to making customer satisfaction our number-one priority!
Drop by to see us - you will quickly see how Century's high-quality customer service, support, and products will make you believe, too!
About Century Dodge Chrysler Jeep - Your Wentzville Chrysler, Ram, Dodge, & Jeep Dealer Serving O'Fallon, St. Louis, St. Peters, St. Charles & Troy
At our dealership, we offer new Chrysler, Ram, Dodge, and Jeep cars in Wentzville, along with used cars, trucks, and SUVs by top manufacturers. Our sales staff will help you find that new or used car you have been searching for in Wentzville.
For years, our financial staff at Century Dodge Chrysler Jeep has offered expert advice for those seeking a great Chrysler, Ram, Dodge, or Jeep car loan or lease. Our service doesn't stop there. Wentzville customers can come in and take advantage of our knowledgeable Chrysler, Ram, Dodge, and Jeep car repair technicians and a fully stocked inventory of Chrysler, Ram, Dodge, and Jeep car parts.
You can reach Century Dodge Chrysler Jeep any time by filling out our contact form, by calling us, or simply by visiting our Wentzville Chrysler, Ram, Dodge, and Jeep dealership at 13500 Veterans Memorial Pkwy.