For over 30 years, Century Dodge Chrysler Jeep Ram has served drivers in Wentzville and the surrounding area. We are proud to offer our community a trustworthy dealership to purchase and service their vehicles. Although quite a bit has changed about our dealership since we first opened our doors in 1989, we are still the same family-owned dealership that is committed to making customer satisfaction our top priority!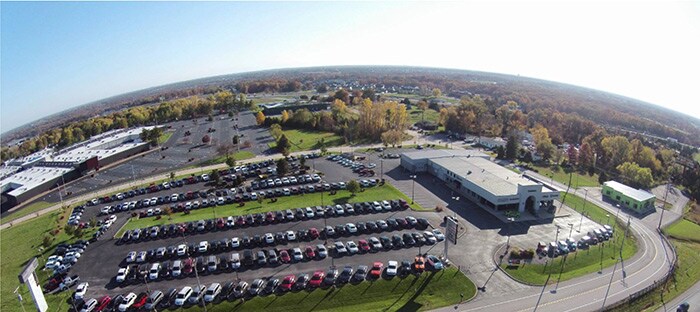 Why Drivers Choose Century
More Than Just a Car Dealership, We're Part of the Community
We are more than just a dealership in Wentzville, MO. While we are proud to be the destination for all of your automotive needs, we are equally committed to actively serving the community around us. 
Century Dodge Chrysler Jeep Ram Serves Wentzville, MO & the Surrounding Areas
Looking for a new Dodge, Chrysler, Jeep, or Ram near the St. Louis area? Look no further! Century is the premier dealership for a new vehicle. Not in the market for a new car, truck, or SUV? We also have a large selection of used vehicles by top manufacturers. Located in Wentzville, MO we're just a stone's throw from Lake St. Louis, O'Fallon, St. Charles, St. Louis, St. Peters, Troy, Warrenton, and Washington. We're proud to serve these communities.   
Century's Story
You could say the story of Century is one of classic American entrepreneurship and perseverance. What began as a small dealership founded by a family with a big dream has since evolved - into one of the premier Dodge, Chrysler, Jeep, and Ram dealers in the St. Louis metropolitan area. Through it all, we've maintained a simple, time-honored philosophy: treat our customers the way we want to be treated.
Our family founded Century in 1989. We converted an old furniture store in a rundown strip mall into a small car dealership. We offered the community superior customer service and knowledge of the Chrysler product line. As word began to spread, our business grew. 
1989: We broke ground on a brand new, state of the art facility located at the intersection of Highway 40/61 and I-70. We continued to offer the same exceptional customer service and extensive product knowledge and our humble dealership continued to grow.      
1997: We added Jeep to our product line and became not only the first Jeep dealer in Wentzville, but the first dealership west of St. Louis to offer the Dodge, Chrysler, and Jeep bands under one roof. 
Our customers were ecstatic. In the years to come, we continued to expand our company. Sales ranked in the top 10% of all Chrysler dealers nationally, but we didn't stop there.
2005: We began renovating and expanding the dealership and doubled the size of our new and pre-owned inventory. 
2009: Chrysler filed for bankruptcy. In doing so, many of their franchise agreements with dealers all over the country were terminated. In June of 2009, we were forced to close our doors. We strongly disagreed with Chrysler's decision. After all, we were a growing, profitable dealership that had just invested in a brand-new facility in the Wentzville community. We provided our customers with a dealership experience that they couldn't get anywhere west of St. Louis. We decided to fight back.
We joined with other dealers across the country that had also been wrongly terminated by Chrysler. We fought Chrysler's decision in the courtroom and in the hallways of Congress. Finally, after 2 years of persistence and refusing to take no for an answer, we prevailed!
2011: We won the fight, and finally re-opened our doors to the public with a new company motto: We Believe!
Much has changed about our dealership since our days in the old furniture store, but some things remain the same. We're still committed to being a family-owned business that's part of the community we service. Most of all, we're committed to making customer satisfaction our number-one priority!